You live with science but do you know it?
Living in an age where technology encompasses every aspect of our lives, the most important thing is to have, at least at a basic level, an understanding of the science behind it. However as society dumbs down not caring where their iPhone comes from, great people like Carl Sagen have warned what to expect.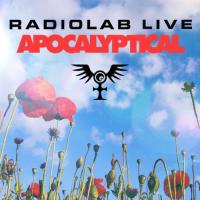 The new landscape of  science communication.
The issue is how to enthuse people about complex topics. Then in one fell swoop, comes a not so little Radio (Podcast) show to take us on a new journey of understanding these topics in fascinating ways.
I've been listening to RadioLab, The Podcast for years and learnt much but it's the entertaining style while sharing complex, often dry topics which impresses me no end. But now they've really shown how to do it with their live performance.
Disaster and Dinosaurs
If you love the monster lizards of days past, or have kiddies in you life who love dinosaurs, along with wondering how it all ended for them, then this is the show for you. But it's more than that.
The stage show is visually stunning but also aurally awe-inspiring, dragging your deep into the drama and devastation of that fateful day when it all went very, very, I mean VERY,  bad in just a couple of hours for all life on Earth. Followed by the story of what came later.
To see the performance of how a radio show is created live along with the musical performance, using instruments in ways I've never seen or heard before, will I'm sure, as it did for me, entertain and educate you about some very complex science.
This is science communication at it's best.
But also stay for some very human stories.