A week-end on indulgence shared on Social Networks
I've been producing online for a half-dozen years now but it's rare for me to receive any bonus for doing something I enjoy but this last week-end that's exactly what's happened as part of the #HumanBrochure campaign for Visit Canberra put on by Australian Capital Tourism.
It all started with flying with my daughter Sabina to Canberra for a 'just the two of us', trip together. It's been a long time since we've had the chance to spend quality time together, especially since Sabina has grown up and it was particularly nice to mix it with activities, fine food and new friends to make it all the better.
Even before we left I noticed (and constantly reminded of), the impeccable planning and execution of every aspect of the week-end ahead.
Over the months since applying as one of the 31,000 odd people to then be culled to 500 'Humans', I've had to fill out a few online questionnaires but other than that, every once in a while I received an email informing me of how everything was 'just happening', to make the week-end come together. I simply let the organisers do everything for me, then I checked in online and then jumped on the plane.
I wonder if this is what if's to have a personal assistant? This was just the start of having my worldly desires managed for me and couldn't help wondering if there would be someone on stand by to tuck me in at night . BRING IT ON!
At the airport we meet the first of the "Humans' to join us, some were old friends, some were new and some I had only known online but now was a chance to meet them in person. There's still something about 'in real life ', meetings which can't be replicated online.
Now, I want to say up front, I realise I was a bought and fully paid for shill on this trip. Everything was all free of my own expense and I appreciate all the wonderful things which were done for us. But I also realise everyone was on their very best behaviour.  This was both a courageous and dangerous event for all the service providers to participate in. Even though we felt grateful for a free holiday and would be inclined to be generous with our compliments (unlike professional cynical reviewers), if they had screwed up, we had the social presence to make a great deal of noise online which could take months or years to fade away. Basically they couldn't afford to screw up!
Canberra arrival.
The first day was all about checking into Crowne Plaza, introduction to the other 'Humans' and settling into the city of Canberra.
As expected, and this is the way it was for the whole week-end everything was perfect, including little gifts and a handwritten note welcoming us, which some poor hotel employee had been dragged into writing 20+ times.
Bit of rest for Sabina and I and it was off to meet the other 40 odd people on the adventure stream before heading to the Australian War Memorial for the official welcome.
Not too many people realise the Australian War Memorial is the number one attraction for Canberra and as such it seemed appropriate as the first port of call on our itinerary.
The Australian War Memorial is a place I enjoy visiting for historical reasons, not so much for the military aspects but that's for another discussion.
What we did see was a video presentation of WWI aerial battles and history with a stunning visual and audio presentation. It just goes to show how effective modern digital multimedia can be used for the education of history in museums these days. Especially when produced by someone like Peter Jackson and all the resources he uses in his film productions.
After the official welcome Sabina and I went out with others for a drink and our first chance to actually get to know each other before the main activities the next day. This was one of the few time we were able to spend some of our own money!
Falling down a mountain.
Mt Stromlo just west of Canberra suffered from a catastrophic firestorm in 2003 resulting in the destruction of much of the local area and the astronomical observatory. Over the last 10 years a major rebuilding programme has created a new suburb, National Arboretum and mountain bike course. Now with all the new growth taking hold the area is really starting to look good again.
But we were here to get on a bike and have some fun.
Sabina choose to get involved in the level riding around the playground including riding over see-saws while I rode up to the top of Mt Stromlo with Australia's only competitor in mountain biking at the London Olympics Bec Henderson.
What a HOOT!
That's the best way to put it! We weren't kitted out like the locals who went fanging past us in their tight lycra on their own custom-built steeds but as a taster of what the Mt Stromlo is like for mountain biking, it's enough to say if I get back there it would be worth hiring a bike and going out for the day. The course is challenging depending on your skill level and Bec did a great job of looking after us while also giving us the opportunity to have a red hot go relevant to our skill base. The climb up was challenging but achievable for all of us and we didn't take the most difficult route but coming down was a real thrill and I wished I had my own familiar bike as it would have made the whole experience so much more exhilarating.
Like I said the whole day was stunning. I have to put a plug in for the outstanding organisation of Capital Bike Hire for what must have been weeks of preparation to have every bike in top condition and sized for us before we arrived. We simply walked up, adjusted the saddle height and we were under way, all 45 of us. Now that takes some organising. 🙂
Food glorious food (and beer and wine and snacks and…)
Additional to breakfast at Crowne Hotel which was the good but standard business fair, we also ate at several restaurant.
After the mountain biking we lunched at Scope Cafe, next to the ruins of the burnt-out observatory, which also included a small museum of the area and for us some fun games racing each other on stationary bikes.
That evening we were split into two groups and walked the short distance to Thirst Wine Bar for a stunning modern Thai fusion meal. Unlike the other group who were enticed with an overwhelming amount of food and drink, Thirst had more than enough to keep us all happy and we didn't go home feeling like bloated fatty boombahs.
Often restraint is better than over indulgence, especially now that I'm past middle age.
Lunch on Sunday and our last meal together was at Belluci's in Dickson and again, like all the others just stunning food, service and wine. For an Italian restaurant this wasn't the pasta/pizza fare but the more wholesome and wonderful meals you come to expect from a wide range of produce.
If the staff at all the restaurant treat their non-#HumanBrochure customers the same way as they treated us, I would heartily recommend each of them. Unfortunately the poisoned chalice coud be, if they were putting on an sycophantic face for us, they have set the standard and it will be up to them to maintain it. If they don't, comments on Foursquare and other networks could really hurt the good name they've achieved over this week-end.
Summing up. The activities, food and drink was just perfect. We had the all the indulgences of excess but also balanced it with activities to help us get our appetite to enjoy the meals.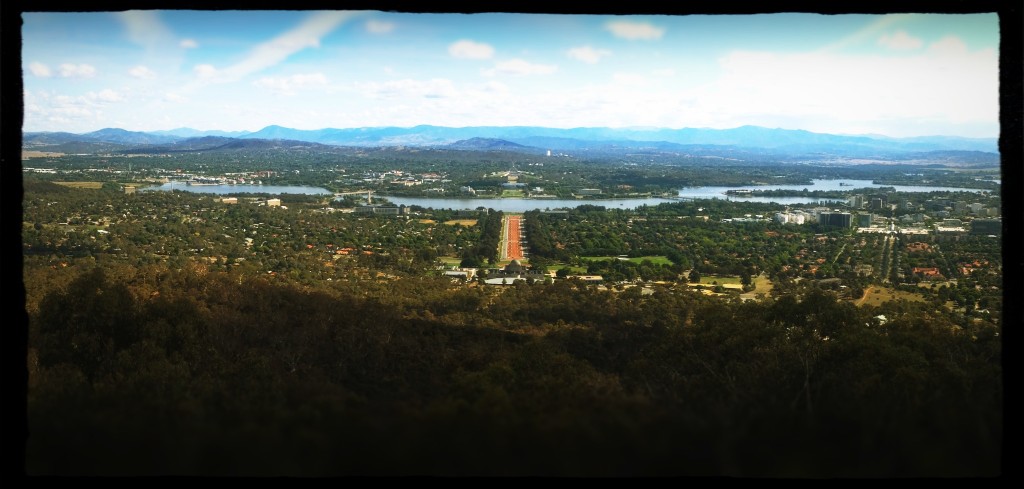 Seeing Canberra locally.
On the Saturday afternoon I joined a few of the other 'Humans' for a walk up Mt Ainslie to look over the greater Canberra region. For anyone wanting to have a simple bush walk to eventually look over the top of the Australian War Memorial to Parliament House, I would recommend this walk. It's not hard even with a modest level of fitness and a good way to get out and see the overview of the area to make sense of Canberra.
Sunday morning we broke into teams of six for the 'Amazing Race', around Lake Burley Griffin put on by Real Fun. This was an absolute hoot to ride around the lake, tagging with our cameras as we went through the check list of sites and participated in additional challenges. I even had a chance to try out a Segway for the first time and a good way to see what's around the city enough to want me to return to our nation's capital for more.
I want to return to Canberra.
If the aim of Australian Capital Tourism was to get me to want to see more of Canberra, they've succeeded and I unfortunately didn't see any of the cultural or historical venues which the other #HumanBrochure streams got to enjoy.
Everywhere in Australia there is something to see but Canberra has something special. As our nation's capital and designed from the ground up to be so, it also has a unique slant on what it is to be Australian and I need to return to see more of the overview of what Australia is about from the Canberra point of view.
Summing up, what I'm left with is a motivation to return and spend a week exploring all that is available after this trip and I would encourage anyone interested in those aspects of Australia to get yourself to Canberra and take your time to look around and discover what the city has to offer.
As it turns out, Canberra has the galleries and museums but also the vibrant young culture of a new 20/21st Century city. It's well worth an extended visit.
I'd love to know your thoughts in the comments below