I'm not drinking coffee at the moment as it seems to make me feel a little jittery too easily so I'm discovering the joys of tea again and the most interesting a varied form of tea, especially if I want something more exciting, rather than soothing, is Chai. While recording the last podcast episode with Tiffany Bond at Chez Laila in Portside we enjoyed a pot of Chai which lead to a discussion on the joys of it.
It's only been a couple of years that I've been making Chai and when I mentioned to Tiffany that I make it she seemed a little surprised but I explained how easy it is to make and how there is no one recipe for it, rather it's an artform that is as unique as the individual, their mood at the time, the weather and the spices and tea on hand. However there are a few ingredients that are basic to all recipes.
My method is simple and easy, and I throw it together, let it brew over and hour or so to enjoy over the next couple of days. Tiffany asked for my recipe and as I wrote the email to her I thought that others may be interested in just how easy this is so here is my recipe.
Just remember there is no correct method and all and every component of this recipe can be changed to suit you but this is a good basic recipe to get you started.
All measurements are loose and dependent on how much falls into my hand on the day or my mood. It will never be wrong, although occasionally a batch will be better.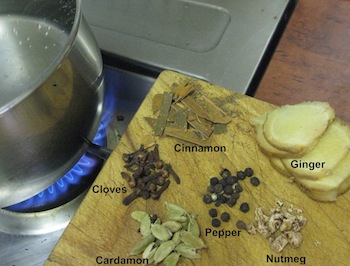 1 litre of water
6 cloves
5 cm of cinnamon or half teaspoon of powder
6 peppercorns
8 green cardamon pods (cracked open with the back of a knife or spoon)
2 cm of fresh ginger (sliced finely)
2 desert spoons of sugar(or to taste)
2 desert spoons of good black tea (I like Dilmah)
Heat all spices and let simmer for 15 to 30 minutes.
Add sugar and return to simmer to dissolve it.
Turn off heat and tea add immediately.
Allow to steep for 5 minutes(too long and it'll go bitter).
Strain off all spices and tea, then refrigerate liquid for use as required.
I heat 2/3 cup of tea to 1/3 cup of milk in a small pan as needed.(add more milk for a chai latte).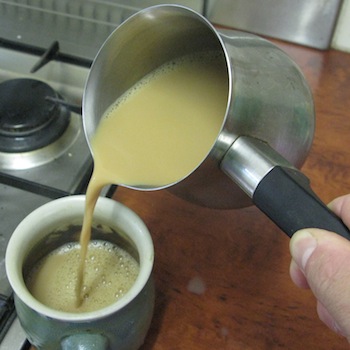 I use Demerara sugar as I like the earthy flavour but also for a change I use Palm sugar occasionally. Not easy to get but very interesting, rich flavour. My favourite place to buy the spices in Brisbane is All India Foods, 31 Balaclava St Woolloongabba. Their range is huge, in bulk if you want and you won't beat the pricing anywhere. Fresher and better than the supermarket.
Pretty simple really and don't sweet the small stuff as far as ingredients go as like I said you can add different spices depending on what you want, bay leaves, chilli, nutmeg, mace whatever. It's all up to you. Nutmeg is nice as is its cousin mace but a little scary so be careful with it as it has a lot of the psychotropic chemical in it, that is also present in nutmeg. I no longer use it as it makes me anxious and hyperactive which no longer suits me but if you want that "charged" feeling give it a go.
That's it… Enjoy 🙂