Podcast: Play in new window | Download (Duration: 1:04:34 — 59.2MB)
Welcome To Episode 47 of Your Story.
Cliff Hawkins story is of someone who in helping his own family with food allergies discovers that he has found a mechanism to help the greater community with some of the most damaging and deadly autoimmune diseases and cancers. Only then to be financially destroyed by the greed of a large corporation when he attempted to move his discoveries to the rest of society.
My local, wonderful sour dough bakery, Sol Bread recently started using an additive within some of their range that allow people with gluten intolerance to eat their bread. I immediately wondered how is this possible and what has been created that allows the bread to function during the baking process to still be as good as normal but doesn't have the negative effects on people with these issues.
As many of us know wheat, dairy, soy and peanut/legume allergies cripple millions of people around the world with ill health effects from irritation to full blown life threatening Anaphylactic Shock and long term health issues.
I tracked down Cliff Hawkins of Biohawk to share with us exactly what he has developed, but I had no idea how deep this rabbit hole was to go.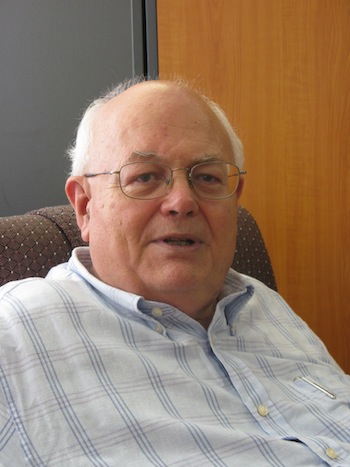 Cliff explains that most food allergies come from the part of the protein within the food that is designed by nature to protect it from damage so that the plant can continue to utilise it for it's needs. This protection mechanism unfortunately for some people is the cause of food intolerance.
As with 30% of the Australian population Cliff's family, with it's Irish heritage has a gene that reacts to these proteins in harmful ways, creating many dangerous health issues for his children and grand children. He set out 40 years ago to find a food and the relevant enzymes that would achieve the amazing task of neutralising these proteins. Using sound scientific processes gained as a medical research scientist he searched food sources dipping into knowledge known for centuries to discover within the ginger plant, specific enzymes that had the ability to cut out these dangerous proteins rending them harmless and making available all of the protein for digestion. Cliff explained to me that, within the individuals genome there are genes that when turned on, causing an immune response to these specific proteins.
Simply through the use of a natural, whole food in this unique way, Cliff has developed a product that makes the protein easily digested, with better nutritional value, tastier and without any health issues. I have no idea how Cliff has managed to pull this off but he has not synthesised anything or stripped out just the reactive components insofar as creating a substance that could be defined as a medicine but uses the whole ginger food. He has some limited, simple processing which I have no idea of but the essence of his work is that his product is nothing but ginger, so falls into the safety of the Pharmacopoeia as an accepted, approved additive to any food or medicine.
NB. According to the University of Maryland website, ginger has been used as a medicine in Asian, Indian and Arabic herbal traditions since ancient times. In China, ginger has been used to aid digestion and treat stomach upsets, diarrhoea and nausea for more than 2000 years. Ginger is also used by natural health practitioners to treat arthritis, colic, headaches, fever, swelling, heart conditions, the common cold and nausea associated with motion sickness, morning sickness and chemotherapy.
He claims that the more serious health conditions of auto immune diseases have a basis in food allergies caused by creating a hyperimmune system that attacks various parts of the body including diseases such as Rheumatoid Arthritis, Autism, Schizophrenia, ADHD, Chronic Fatigue Syndrome and many others. These Autoimmune Diseases are due to the immune system sending proteins to make the B cells that make antibodies to attack the the dangerous pathogens disproportional to the threat, meaning the immune system is overreacting. These excess proteins then go on to react with the body, creating the auto immune disease. Cliffs product has the same effect on these proteins by cutting the excess proteins out, reducing them to normal levels, then allowing the body to return to normal.
That same strategy used by plants to protect their energy stores from being broken down are also used by viruses, bacterium and cancers to protect against the immune response of our bodies. These serious pathogens and cancers have a high proportion of these dangerous proteins on their surface which Cliff's product has the effect of trimming off allowing the body to react and destroy the cells. The Ginger product simply removes their protection, so our immune system can do it's job and destroy them and the danger.
Though there is ample evidence to show the benefits of Cliffs ginger products they are sold as Aid to Digestion only and the benefits will be dependant on individual circumstances and the conditions being treated.
To understand better how this works from Biohawk here is an explanitary PDF.
Although this is hard science it also has an element of a craft, with a passion in caring for the greater community and realising that nature, in it's whole has many of the answers for what we need.

Not only are these human health but also animal husbandry issues and like us, many farmed animals are grain fed and have many of these same health problems.  Cliff has discovered that the same health effects can be gained with animal health particularly with race horses, cattle and poultry. With animal health there are direct financial benefits to the owner of the stock justifying the use of the Animal Health range.
Having received his initial training at the prestigious John Curtin School of Medical Research, Cliff  is the former Professor of Chemistry, Dean of Science and Pro-Vice-Chancellor at University of Queensland  (Biological Sciences). This is his Linedkin Profile.
Cliff's products are available online and through agents and pharmacies. His main products are DigestEasy sold as a solution and Relief both sold as an aid to digestion and Bake Aid.
His website is biohawk.com.au
email is info@biohawk.com.au
To help you understand a little better Christopher's condition, these are the PET scans mentioned that had been done at the time of our discussion.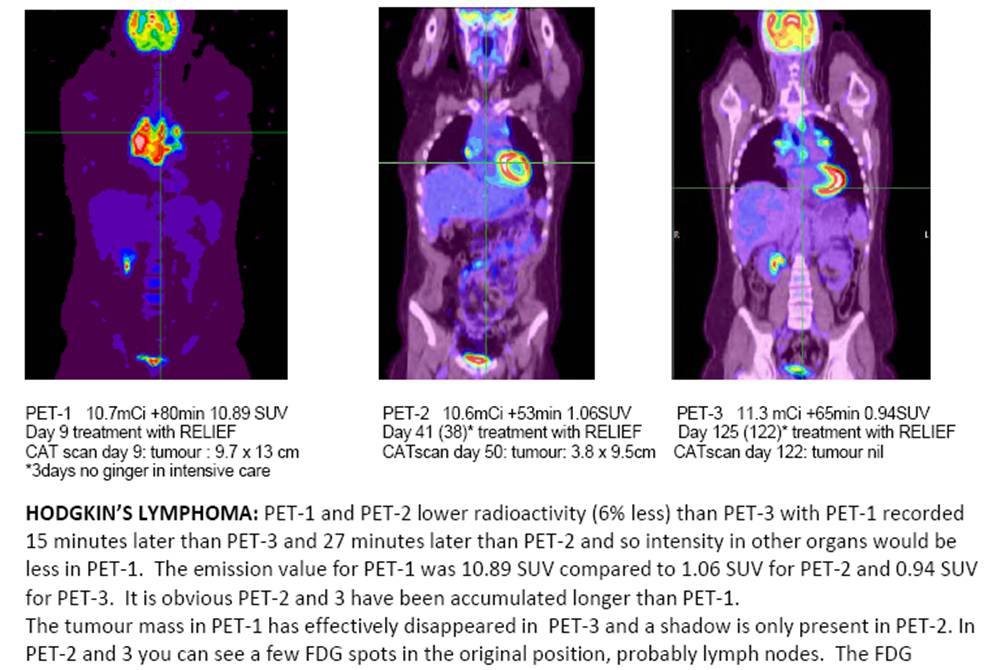 Additional Content
I recorded much more detail with Cliff than I was unable to include in this episode. If you would like to go deeper into this story listen here to Cliff with the full recording.
Podcast (additional): Play in new window | Download (Duration: 1:28:08 — 80.8MB)
In this episode we also chat with Ant and Natalie about how they dealt with discovering that their 16 year old son Christopher had Hodgkin's Lymphoma and how they used a treatment including Cliff's product to return him to health. If you like to, listen to the Full Story of Christopher.
In my discussion with Ant & Natalie, they mentioned that they would be happy to assist anyone with additional information by being first contacting me. If you would like to contact them, in the first instance send me an email to chat@YourStoryPodcast.com and I'll happily pass on your contact  to them so they can contact you in return.
Twelve Common Medicinal Herbs
Mayo Clinic – Ginger
University of Maryland – Ginger
To automatically receive this podcast freely to you, click on one of the links to the left or search in iTunes for "Your Story."
Join the Your Story Facebook group.
Subscribe freely in iTunes by Clicking here.
If you use another Podcast software Get the feed here.
Support Your Story by commenting on this episode with one of the social network sites below or writing a review on iTunes
Music is from iodaPROMONET

Night Style
"Imagine" (mp3)
from "Pour L'Instant Fantastique 2"
(Stranamente Music)
Buy at iTunes Music Store
Buy at eMusic
Buy at Napster
Stream from Rhapsody
Buy at Amazon MP3
More On This Album
Alex Theory
"Oasis" (mp3)
from "Saturn Returns"
(White Swan Records)
Buy at Rhapsody
Buy at Napster
Stream from Rhapsody
Buy at Amazon MP3
More On This Album