Podcast: Play in new window | Download (Duration: 50:47 — 69.8MB)
Welcome To Episode 36 of Your Story.

Today we talk with Chris Booth artist and maker of things.
Chris is now starting to have real success in the art scene in Australia after years of being a struggling artist. We discuss the artist life, how difficult it is to make a success in the art world and the compromises that are made to get to that success. Chris mentions how Metro Gallery in Melbourne have given him a leg up, supporting him with a regular retainer income so he can concentrate on making the art rather than having to compromise his passion to find the income for his basic human needs.

Chris has developed a new and different type of painting art-form utilising his making skills to build multiple layers of board sitting proud of the backing to create a real depth of field causing the image to lift from the canvas. This blending with his pop/anime style using clean precise lines create these elegant images that he is becoming known for.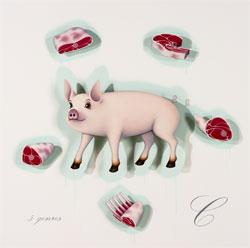 To have a look at some of his work go to Metro Gallery, and another Metro page and Art Net.
His website is still coming…
email is chrisbooth002@yahoo.com.au
As mentioned on the show the Lapel Microphones used on this episode are from Giant Squid Audio.
To automatically receive this podcast freely to you, click on one of the links to the left or search in iTunes for "Your Story."
Subscribe freely in iTunes by Clicking here.
If you use another Podcast software Get the feed here.
Support Your Story by giving it a Digg or Stumble or writing a review on iTunes

Music is from iodaPROMONET
DJ Bitman
"Tropilove" (mp3)
from "Latin Bitman"
(Nacional Records)
Buy at Rhapsody
Buy at Napster
Buy at Amazon MP3
More On This Album