Podcast: Play in new window | Download (Duration: 1:21:15 — 74.5MB)
Welcome To Episode 28 of Your Story.
Today we talk with Colin Kerr who is my sisters father in-law who generously shared some time with us about his early life in Britain, dealing with life as a teenager during the war years and the fascination that only a 15 year old can have in war time despite the dangers of the blitz. As a young man he spent time in compulsory military service in the early '50 and shares the wonderful life that could be had in the military during peace time.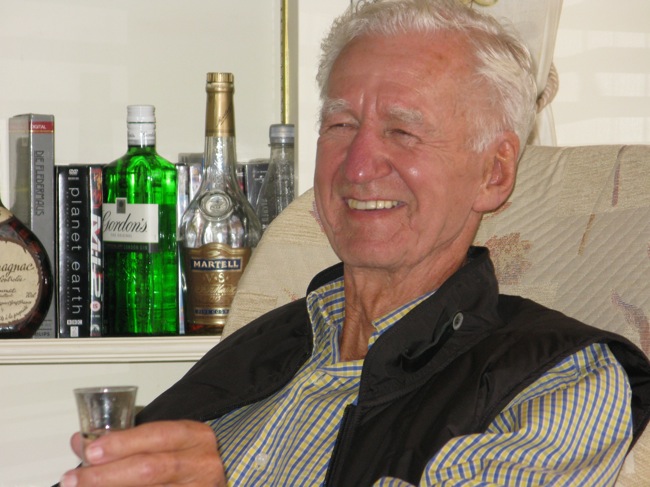 Colin explains his experiences of understanding both the British and French cultures and how he feels to be primarily European rather than being specifically British. He shares his thoughts on the British attitude towards involvement in external affairs of other countries and the impact that has on life in the UK going back to the influx of migration from the fifties and the impact of the IRA through to the involvement in the affairs of Western Europe and the United States of America.
As is often the case when I record these episodes of Your Story the conversation that I have before and after I start recording is often interesting. In this case I turned the recorder back on and recorded a more casual conversation with Colin. At the time he didn't realise that the recorder was on but when I mentioned it to him he was happy for me to use it in the show. I was originally going to edit it in but on reflection I feel that it is more valid as a postscript to the original conversation. I've simply added it onto the end of the episode as an Addendum to the main portion. I think the continuing chat we had has merit.
To automatically receive this podcast freely to you, click on one of the links to the left or search in iTunes for "Your Story."
Subscribe freely in iTunes by Clicking here.
If you use another Podcast software Get the feed here.
Support Your Story by giving it a Digg or Stumble from the links under the heading for this episode or writing a review on iTunes

Music is from iodaPROMONET
Backrow Politics (mp3)
Buy at iTunes Music Store
More On This Album
Immergent
Gordon Goodwin's Big Phat Band