Podcast: Play in new window | Download (Duration: 42:15 — 38.8MB)
Welcome To Episode 26 of Your Story.
It's been some time since there has been a Your Story Episode, unfortunately the constraints to produce an episode while on the road travelling made it difficult to find the time required for the standard necessary to do justice to the wonderful people that I meet.
However now that I've returned to Australia it's possible to finish the necessary work required to get an episode out and here it is.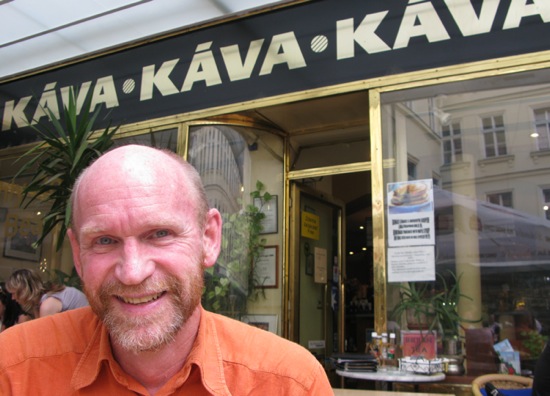 Today we talk with Michael Kierans who in is a Canadian migrant living with his Czech wife in Prague, Czech Republic. He is established as a successful business owner of two cafes bars having moved from his successful life as a lawyer in Canada to Prague after the fall of Communism. Michael explains the difficulties of dealing with a different cultural and mental attitude that permeates all aspects of life in the Czech Republic from organising the necessities of running a business to the way that the government and politicians operate.
Michael explains the ever so subtle differences that he is able to be aware of now that he has been in Prague for a considerable period of time. He explains why the personality of the Czech people is the way it is, due to the long history of the Czech Lands and the impact that this history has had on the culture particularly during the communist era. Also he shows his enthiusium for this country and why there is an exciting time for the Czech Republic into the future as the next generations come through with their new and different mindset and continuation of their cultural heritages.
Impressively Michael explains what keeps him in Prague and why he loves it so much to make it his home.
His website is kava-coffee.cz
email is kava@mbox.vol.cz
To automatically receive this podcast freely to you, click on one of the links to the left or search in iTunes for "Your Story."
Subscribe freely in iTunes by Clicking here.
If you use another Podcast software Get the feed here.
Support Your Story by giving it a Digg or Stumble from the links under the heading for this episode or writing a review on iTunes

I asked a few questions that I would apprediate a quick response to if you feel inclined to help me with understanding the direction to direct Your Story. Please send you thoughts to chat@yourstorypodcast.com.
Am I hitting the mark and what is it that interests you about Your Story?
What is it that you like or don't like?
What type of personalities would you like me to find and what interests you?
Did you enjoy my addendum episodes or would you rather I just stick to the main Your Story episodes?
Music is from iodaPROMONET
Time Machine
"The Groove That Just Won't Stop" (mp3)
from "Life Is Expensive"
(Glow In The Dark Records)
Buy at iTunes Music Store
Buy at Napster
Stream from Rhapsody
More On This Album