Yesterday I reached into the washing machine to find my 2nd Generation iPod Nano wet and bedrageled like a kitten left outside after a thunderstorm. My heart sank as I looked at the pretty patterns that the water was making between the LCD and the front screen.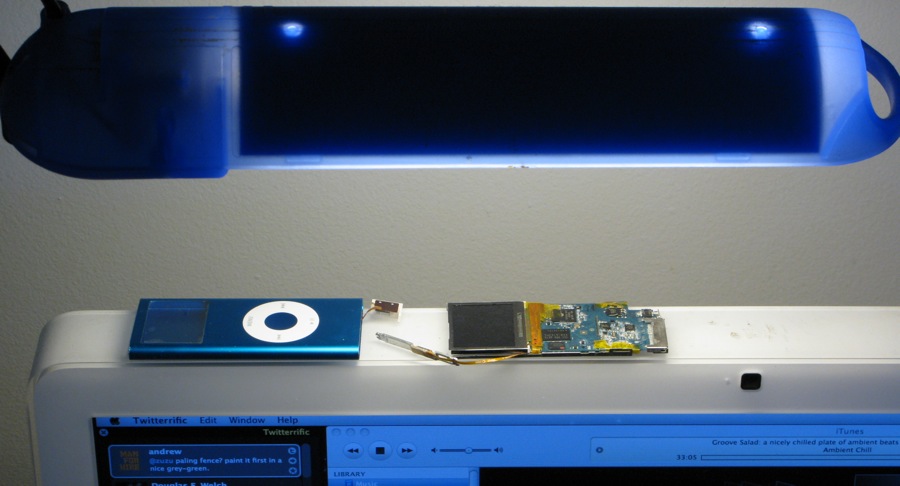 So on line I found the instructions on how to pull it apart and carefully did so. Carefully due to the tiny screws involved and then mopped the poor thing dry.
For the next few hours I left it baking under my desk lamp and this morning I reassembled it. The end result you can see in the seesmic video.
Wish I had better news but it looks like I may be getting a 4th Generation iPod shortly. Shame as this iPod perfectly suited my needs at work as it fits in my shorts pocket and is a breeze to use and it's all I need for work.
{seesmic_video:{"url_thumbnail":{"value":"http://t.seesmic.com/thumbnail/cBxnR2dykW_th1.jpg"}"title":{"value":"iPod Nano Washing Machine and Water Fix and Repair "}"videoUri":{"value":"http://www.seesmic.com/video/BiurivDUjR"}}} {seesmic_video:{"url_thumbnail":{"value":"http://t.seesmic.com/thumbnail/mdoehAHjPF_th1.jpg"}"title":{"value":"iPod Nano Restart Not! "}"videoUri":{"value":"http://www.seesmic.com/video/zj48eZCbMz"}}}