Podcast: Play in new window | Download (Duration: 9:48 — 9.1MB)
Welcome To Episode 9 of Your Story Addendum.
Here is another of my personal raves recorded while walking home through Potsdamer Platz about what I've seen and been doing but this time with a spin.
The first is the cafe that I had the wonderful meeting and conversation in.
As I walked in off the stark street-scape into the styled aura of what could have been Berlin in it's heyday of the 1920's I gasped in surprise because of the contrast to outside. An extraordinary cool and groovy place is the Joseph Roth Diele and a delight to spend some time in.

Inside while waiting and afterwards I drank fine beer from stoneware mugs and ate good wholesome home cooked food all for a price a third of what I would have paid back home.
Shortly I meet the gaze and had the opportunity to connect with two wonderful women, Nicky Gardner and Susanne Kries, who publish a very different travel magazine in Hidden Europe about the not so common but wonderful secreted away areas of Europe.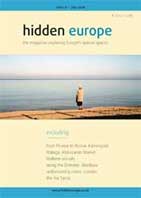 I initially hoped that I would be able to record a proper episode of Your Story with them but they prefer to remain private but they have allowed me to record my own thoughts about our discussion.
As I thought so many times during the chat I wish I had the recorder on as I feel that I didn't even come close to expressing the salient points that they shared so well.
However you can always go to their site and see what they are publishing.
Nicky inquired with me about my heritage and the trip a few days ago to Swidwin and sent to me this insight to the area that my family originated from. This is a small excerpt of some generous research she gave me and which I know my greater family will be fascinated by. The way she writes and shares the information is more insightful than anything that I can say and is in a similar style to give you a feel for the writing style of Hidden Europe.
Świdwin had an interesting mix of Catholics and Lutherans. Members of the Kath family were baptised in the Lutheran church during the mid-nineteenth century. Being Lutheran did not mean having land. Many Pomeranian agricultural workers became Lutheran as a expedient to maintain good relations with their Prussian landlords. Improvements in agriculture led to a large amount of emigration from Świdwin from about 1855 onwards, and particularly post 1868. Some peasants, no longer finding work on the land, moved to the US, particularly to Michigan and Wisconsin where farmland was available in landscapes that recalled the spirit of Pomorze. Others went to Chicago, electing according to inclination to integrate there into the German or Polish communities in the rapidly growing city.
So to define Świdwin as Prussian is a stab at the town's and region's history. A reasonable one. But it masks the fact that Pomorze (or Pomerania if you prefer) had, and still has, its own particular identity and cultural mix. It had a measure of Prussian authority imposed upon it. Taking a long view, over the last 1000 years, that Prussia 'overlay' was quite brief.  But it is hard for us to be certain, at the time your forbears left some 120 years ago, quite how those individuals would have constructed their own identity. German? Polish? Prussian? Pomeranian? It's very difficult to say. Very much the sort of issue we ponder in our writing for hidden Europe magazine.
Their website is hiddeneurope.co.uk
To automatically receive this podcast freely to you, click on one of the links to the left or search in iTunes for "Your Story."
Subscribe freely in iTunes by Clicking here.
If you use another Podcast software Get the feed here.