Podcast: Play in new window | Download (Duration: 1:07:55 — 31.1MB)
Welcome To Episode Thirteen of Your Story.
Today we talk with John Pene-Fonmosa who in explaining his heritage from the slavery of the South Sea Islanders known as Kanakas and their strong work ethic offers an opposing thought on the Sorry concept that is in the public mind at present.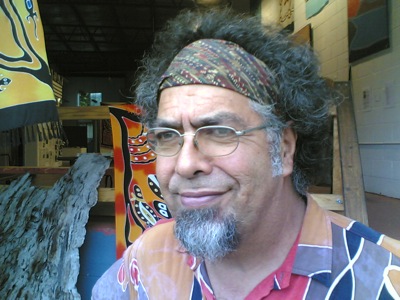 He feels that the Aboriginal Australians should say sorry to the Australian populations for surprising reasons.
He has strong opinions on how fortunate we all are in Australia and how he is creating his own reality through the development of his Authentic Aboriginal Art Gallery in Brisbane.
His website is www.indijnarts.com.au
email is indijnarts@bigpond.com
His poem that he recites during the show is…
Please Forgive Us
Aborigines lived, on Australian plains
No-one else there, but the wind and rains
Happy and free, living as one
Listen, the birds, the animals
Greet the morning Sun
For thousand of years, or so it appears
The air was pure, the land was clean
The mountains, the forests were pristine
Hunters, gathers, on the move
How could they know, these pale strangers, would disapprove
Hunted and chased, like animal herds
Far from their lands, to be placed on reserves
The dancing, the dreaming, their art to be scorned
The hurting, the weeping, the bitterness, had been spawned
Made to feel like a stranger, in our own land
Please try and help us, to understand
What you have taken, was rightfully mine
There was, no agreements, of treaty to sign
Is it wrong to ask, that justice be made
For all the broken spirits, your foundations have laid
We're only asking, that the truth should be known
Please forgive us, if bitterness and anger we've shown
John Pene-Fonmosa
Fingal Head N.S.W. 1985
Music is from iodaPROMONET
Levan Vs Ekala
"Happiness" (mp3)
from "Happiness"
(System Recordings)
Stream from Rhapsody
Buy at Amazon
More On This Album