Podcast: Play in new window | Download (Duration: 37:53 — 34.8MB)
Welcome To Episode 22 of Your Story Addendum.
Today we chat with Romy who while studying Social Services has continued to work and develop her childhood passion for Social Circus as a mechanism to enable children to develop and grow their communication skills, self worth and community interactions.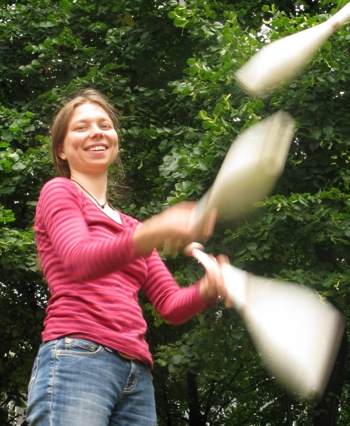 She now has a huge opportunity to help develop the concept of Social Circus in the United States which will develop the concept even further.
Romy explains a little of the support that the German government gives to single parents to enable them to support both their studies and raising their children and how she has been able to develop with the aid of the support of the government.
We briefly discuss the new post Berlin Wall interactions between East and West Germans and a little of the inequity that is still present between East and West.
Her website is ro-und-ro.blogspot.com
Her Email is romy.backofen@googlemail.com
To automatically receive this podcast freely to you, click on one of the links to the left or search in iTunes for "Your Story."
Subscribe freely in iTunes by Clicking here.
If you use another Podcast software Get the feed here.
Music is from iodaPROMONET

Bitter:Sweet
"Salty Air" (mp3)
from "The Remix Game"
(Quango)
Buy at eMusic
Stream from Rhapsody
Buy at Amazon
More On This Album