Welcome To Episode Six of Your Story.
Podcast: Play in new window | Download (Duration: 44:54 — 41.1MB)
Today we talk with Juan Mann of Free Hugs fame. You have probably seen the video, if not here it is.
[youtube]http://www.youtube.com/watch?v=vr3x_RRJdd4[/youtube]
A runaway viral success that has lead onto things greater than anyone could have imagined.
It all started for me when I saw on Twitter that Richard Giles had gone to visit Juan and I thought well there is a story in that!
So I found his Welcome To My Home site and asked if I could drop in, seeing how I was in Sydney. Generously, he agreed.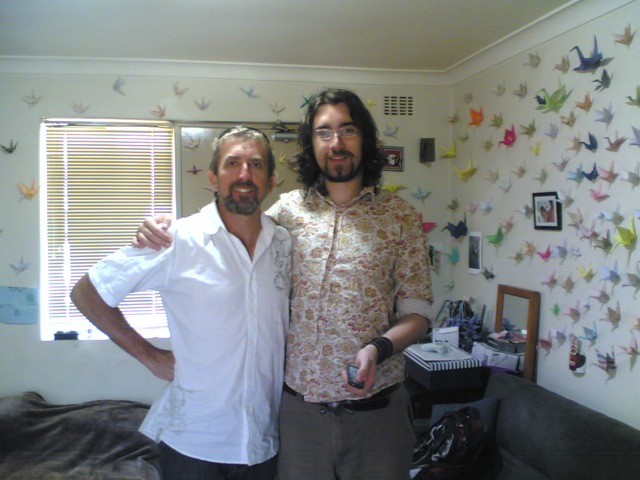 We talk about the runaway success that the video has become for him and what it has lead on to, including appearing on Oprah and Andrew Dentons Enough Rope along with opportunities that you would never write into a business plan.
Surprisingly this has lead to him developing a career as a public speaker enabling him to continue to get his message out there and to motivate others to follow their passion.
Here is Juan explaining how the Free Hugs Campaign has now grown and gone around the world. To learn more on the Free Hugs Campaign go to Wikipedia
[youtube]http://www.youtube.com/watch?v=BRVzXcybd2c[/youtube]
His free ebook The Illustrated Guide To Free Hugs is available to download at freehugsguide.com If you feel that the world can be made a better place through acts of kindness like this I would encourage you to consider making a donation if you feel inspired.
Email is freehugscampaign@yahoo.com
To automatically receive this podcast freely to you, click on one of the links to the left or search in iTunes for "Your Story."
Subscribe freely in iTunes by Clicking here.
If you use another Podcast software Get the feed here.
Opening and closing track is All The Same by Sick Puppies