While walking through La Boca in Buenos Aires with Bernard and Heather we had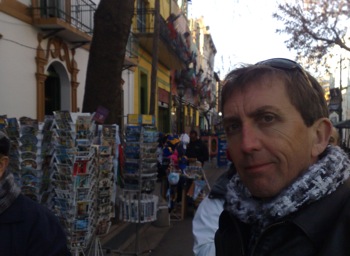 one of those experiences of travel where an opportunity grabs you, that insists that you experience something unique.
We were checking out the numerous market stalls and engaging with the roving cafes and restaurant hawkers who constantly encourage us to come inside for a coffee, meal or whiskey. Anytime we stop to watch the street side tango displays in front of the businesses designed to slow our movement, they were on to us.
Then ferreting our way down a quiet lane to see what we may find, where few people lingered we heard the sound of the traditional tango music played on a Bandoneon by a single busker in the window of a store.
We all agreed that it made us feel like dancing so Bernard and Heather put down their goods, embraced each other and on impulse danced street tango. Nothing flash, without the show and pizzazz that was all around us in the main street, but in the style of two people connected in the moment, carried off with the music.
I whipped out my phone and grabbed this video of them. A moment that the three of us will cherish, along with the 20 something crowd that stopped to see the true essence of tango. Spontaneous, carefree and uniquely Buenos Aires.