USB interfaces including Zoom H4 as well as many firewire interfaces are having issues with Leopard.
This was a problem I thought wouldn't have arisen as a couple of months back I couldn't use my Behringer firewire interface with OS10.4.10. Eventually I had to go back to OS10.4.9. So I was glad to upgrade to OS 10.5 Leopard thinking that all the problems would be gone which for the Behringer unit is so. However my Zoom H4 is having issues.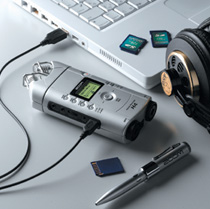 Yesterday I sent this email to a podcast Inside Home Recording
…when I plug in my H4 it shows that it is powered and connected to the Mac but it doesn't come up on the desktop. Therefore I can't get any data off. I've sent an email to Zoom Japan and they are aware of the issue. So as far as the Apple forums are concerned I'm snookered for the moment. Unless some one can come up with a solution I'll be forced to download to another machine and burn disks to transfer the files. I may even have to use a PC 🙁 Until this is resolved…
On Sunday I sent an email to Zoom Corporation and today to my surprise of Zoom efficiency I received an email and they have posted an Update for a Patch to fix this issue.
Tonight I downloaded from Zoom the file then uploaded the 2.10 operating system file as recommended using a card reader to put the file on a SD card and installed the new version of the operating system.
Now I have a fresh new operating system on my Zoom H4 and it is on my desk top through the cable connection just like on Tiger.
And it gets better…
It turns out that it was a good move as they had only gone to 2.0 in October and I hadn't had a chance to get it and the screen font and some of the features seem to be an improvement. As yet I haven't had much of a chance to get around the new operating system but some of the new features are…
Font Change
Battery Capacity/Type
Normalise Function & more…
Overall I think yet again Zoom has performed brilliantly with not only a great product but outstanding service to fix this compatibility issue so quickly.